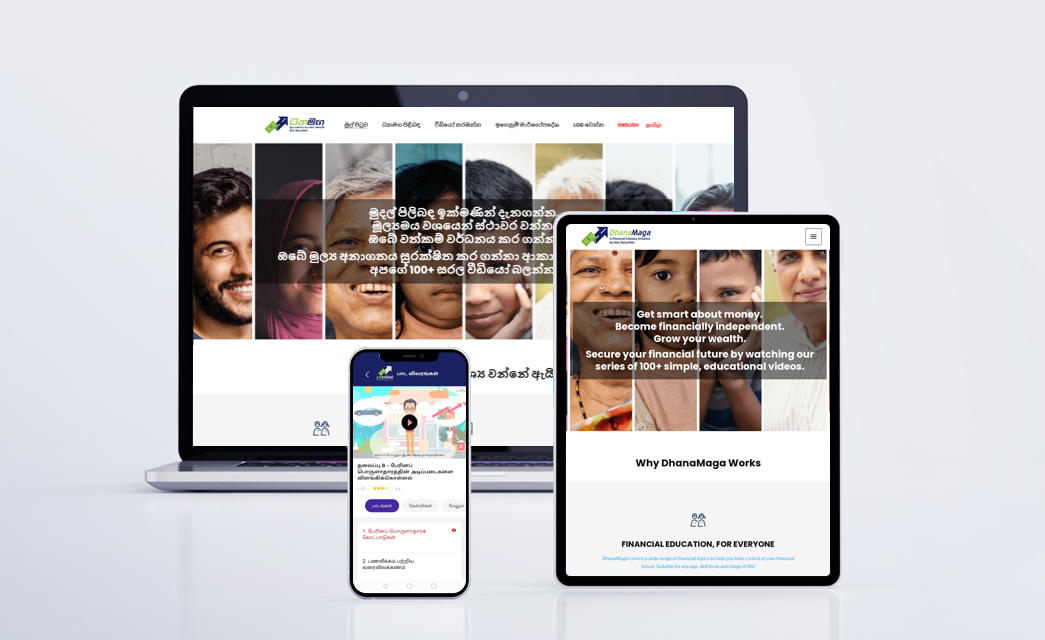 Sri Lanka's first comprehensive, trilingual, private sector-led financial literacy initiative
DhanaMaga (ධනමග / தன மார்க்கம்) is a free, trilingual, video-based, online financial literacy programme aimed at helping all Sri Lankans take control of their financial future from anywhere.
The programme comes in the form of 100+ short, easy-to-follow videos in Sinhala, Tamil and English, and will help you find the answers to all your money-related questions from budgeting tips and managing your personal wealth, to understanding company statements and choosing an investment strategy that is right for you. You can access all this content via the DhanaMaga website as well as via the DhanaMaga mobile apps - completely free of charge!
Why DhanaMaga Works

Financial education, for everyone
DhanaMaga covers a wide range of financial topics to help you take control of your financial future. Suitable for any age, skill level, and stage of life!

Trusted content, completely free
All content is vetted by our Curriculum Committee comprising key local experts with a collective experience of 70+ years.

Financial learning, on the go
Learn at your own pace - our bite-sized videos are easy to follow and can be viewed directly on your smartphone. See our sample videos below.
Our Impact
When individuals and small businesses succeed, communities prosper.
DhanaMaga aims to empower Sri Lankans, from all walks of life, with the right knowledge resources so that they may learn how to finance a small business without putting themselves at too much risk or how to manage their earnings by planning ahead and investing for their families' future needs in an informed manner.
The impact of Dhanamaga, however, extends beyond the individual. What makes a difference for a small business owner or a working mother translates into broader gains for our wider society - supporting the nation's goal of prosperity and a better standard of living for all citizens.
Get Involved
If you are interested in making financial inclusion a reality for all Sri Lankans, feel free to reach out to us understand how we can work together. You can also follow the DhanaMaga Facebook page to receive news and information about our efforts.
Follow DhanaMaga on Facebook